Window Lettering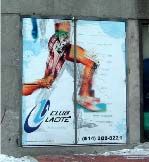 Have you been leveraging window signs and window graphics at your location? If not, you're missing a great opportunity to make an impression on Montreal's traffic and passersby while they're right at your doorstep.
We can help you transform your windows into valuable promotional space. With a wide variety of options and a highly personal approach to customer service, we have a unique solution to fit your business and your budget. And with 16 years of window graphic expertise, you're sure to enjoy a no-hassle project every time.
With our installation service to Montreal and surrounding areas the transformation of your windows is even easier.
Our service team can help you build the right window sign solution for your business. A few of our most popular options include: